Based on a recent The Real Deal article "Inventory Overload", these four neighborhoods will receive 40% of the new Manhattan condos in the pipeline in the next 18 months. Yes, that's a lot of new properties in just a few neighborhoods. In the long term, the added condo stock will be a good thing, gentrifying these neighborhoods that traditionally haven't drawn many residents. In the near term, however, if one's exit strategy is less than 7 to 10 years, perhaps other neighborhoods make more sense.
Across Manhattan, there are certain property classifications and neighborhoods with an undersupply of new condos, so it's best not to generalize when the oversupply is focused on only four neighborhoods. Buyers and renters in neighborhoods with perpetually low condo inventory, such as Greenwich Village, Flatiron, prime Upper East Side (Fifth to Lexington) and prime Upper West Side(Broadway to CPW) likely won't ever be looking to rent or buy in the Lower East Side or Financial District. These neighborhoods draw a very different clientele.
In this Manhattan Real Estate market overview, we briefly discuss the new condo inventory pipeline by neighborhood and highlight a few new developments that we like. For those concerned about the buzz of the word "oversupply" heed the words of Sam Zell, the head of Equity Residential, the largest apartment REIT in the US, who recently said that New York has some oversupply, but indicated that it was relatively small and that "there is no ability to overrun an urban market [like New York City] with oversupply."
Financial District & Seaport
(oversupply)
Fidi and Seaport will see a pipeline of close to 2,000 new condo units.

There are more new units coming on the market over the next few years in these neighborhoods than any other part of Manhattan.

We are seeing many traditional Wall Street companies exit the financial district to go to areas of the city where there are more Class A office towers, such as Deutsche Bank going to Time Warner and many other moving to Hudson Yards. Some of these buildings are being converted to residential, while ground up new construction buildings will also be coming into the market.
At current absorption rates, it would take 8 years to sell out the full pipeline of the units in the Financial District neighborhood.
August 19, 2019 Update:
As per a Blomberg article titled "Apartments in Manhattan's Financial District Are Languishing", condo inventory in the Financial District increased by 24% compared Q2 2018, which was led by new development. With all the supply entering the market, prices of resale condos declined 11% and the prices of new development condos dropped 46%! During Q2 2019, no resale condo sold for more than $1,600 per square foot. This hasn't happened in 6 years!
Buyers are now well aware of the amount of inventory in the neighborhood and listings are sitting on the market longer than any other Manhattan neighborhood. Over the last few years, Brooklyn and Long Island have captured a larger share of sales, as Manhattanites headed for the boroughs. Now, we see the boroughs selling much quicker than Brooklyn or Long Island City: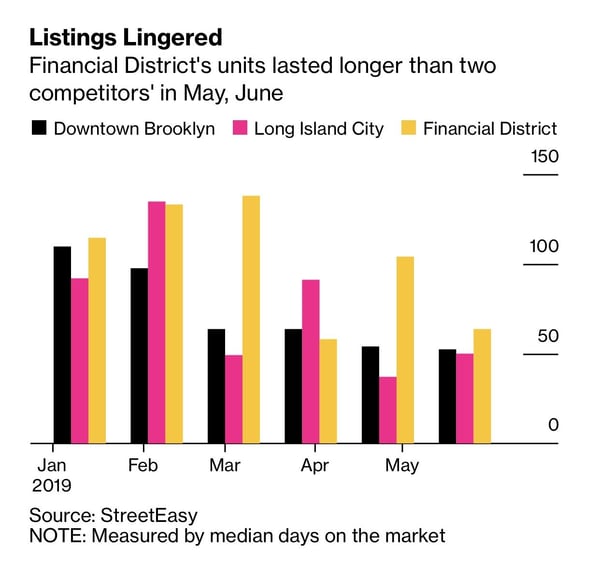 In the next year, 130 William, 77 Greenwich, 25 Park Row and One Wall Street, all ground up new developments are set to open in the Financial District. New conversions are also in the works, including 175 Water Street, the site of the old AIG building. With all this new product coming online, next year will be a tough time to sell resale properties in the Financial District.
Lower East Side & East Village
(oversupply)
LES and EV will see the second highest number of units in the pipeline.

Between LES and EV, there approximately 1,000 new units coming on the market or in the pipeline. Most of these units will be coming to the LES, with 815 units for one specific development, One Manhattan Square, by Extell.

For the Lower East Side, new development condos close to Essex Crossing may fare better, such as 198 Orchard, 242 Broome, 150 Rivington, given the zoning requires strict height restrictions of 12 stories.
Billionaire's Row
(oversupply)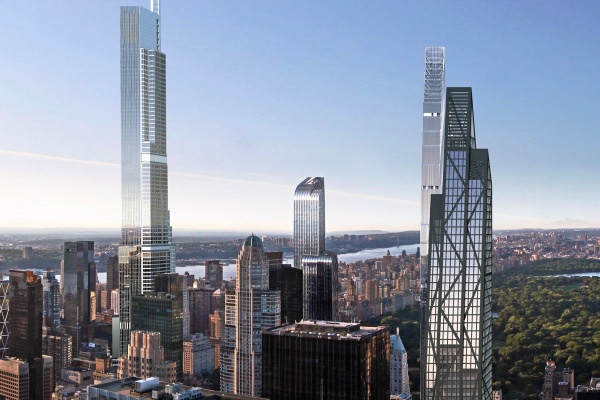 Far West Side
(oversupply)
Oversupply in both the condo and rental market will continue for 2-3 years with the addition of 3 towers at Waterline Square, where 287 condos are coming online, as well as another 800 rental units.
While we love most aspects of the Waterline Square project including amazing building designs by Rafael Vynoly, Kohn Penderson Fox, and Richard Meier, sumptuous interiors, gorgeous water views, 100,000 sq. ft. of shared amenities, a curated food market concept and restaurant by Cipriani, and of course the 25 year tax abatement, it's probably not the best choice for a pure investor, given to rent your place, you will be competing against the developer's 800 rental units and a corporation with infinite resources. This will have the effect of reducing potential returns for our investors.
If there was less competition (via lower number of rental units) our assessment could be different. For primary homeowners with no expectation of renting out their unit, Waterline Square is a great project. And, there is no doubt that the Waterline Square project will finally make the entire Riverside Boulevard area more neighborhood friendly.
As for the rest of Riverside Boulevard, rental rates had significant decreases in the past two years, given the competition with new condos (50 Riverside and One West End) and rental buildings in the area, such as 21 West End, which brought 612 rentals last year. We expect downward price pressure in this neighborhood until the supply from Waterline Square is absorbed.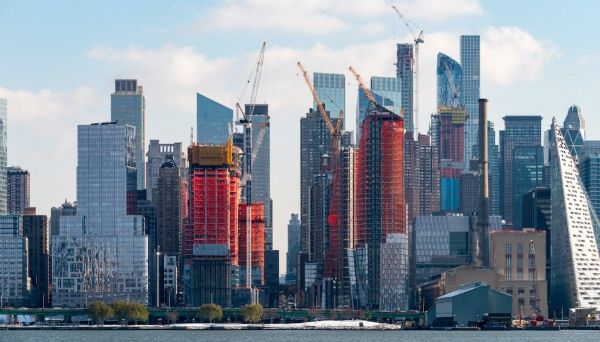 Image Credit: rew-online.com
Upper West Side (core - Broadway to CPW)
A low level of existing condo inventory with declining pipelines creates a healthier supply-demand equilibrium of Manhattan apartments for sale in the area.
Existing buildings like The Harrison, The Laureate and Linden reign supreme among the best buys on the resale market.
New developments like 250 West 81 Street (image below), designed by Robert. A.M. Stern (aka 15 Central Park West), have sold briskly, so there is demand for top-tier projects in prime UWS.
The transformation of the turn of the century Belnord apartment house at W 86th Street into condos will set record pricing in the core UWS with Robert A.M. Stern as the architect and HFZ Capital Group as the developer. The launch is imminent in summer 2018.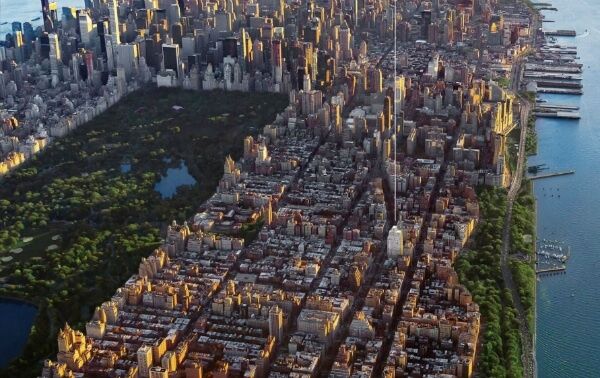 Image Credit: 250 West 81 Street
Upper East Side (core Fifth to Lex & pockets)
For Lenox Hill, the low level of existing condo inventory with declining pipelines creates a healthier supply-demand equilibrium.
Much of the core UES has a high number of coops, effectively capping the level of future new development units.
West of Lexington, there are long-term opportunities resulting from the addition of the 2nd Avenue Subway line and its new transit centers at 96th, 86th, 72nd and 63rd Streets. This area of the Upper East Side has been receiving a higher than average rent increases as a result.
New developments condos in traditional pockets of the UES like 20 East End Avenue have done very well. We expect the same for 40 East End Ave, discussed below.
Greenwich Village & West Village
The Village is a rare example of a perpetual seller's market.
The low level of existing condo inventory with declining pipelines creates a healthier supply-demand equilibrium.
Only 91 units are either on market or in the pipeline. Inventory has been declining since the end of 2015.
Given that much of the village is landmarked, few new projects are ever developed there. Those that do get the green light, are usually on the smaller side.
Flatiron & East Chelsea
The low level of existing condo inventory with declining pipelines creates a healthier supply-demand equilibrium.
The amazing success of Walker Tower in East Chelsea, cemented the area as a luxury neighborhood, resulting in the opening of Barney's downtown close by.
Projects like 10 Madison Square West and Madison Square Park Tower (which is almost sold out), with average prices north of $3K per sq. ft. demonstrates the force of the Flatiron neighborhood. Others under construction like 121 E 22, developed by Toll Brothers and designed by Rem Koolhaas' OMA, are also selling briskly.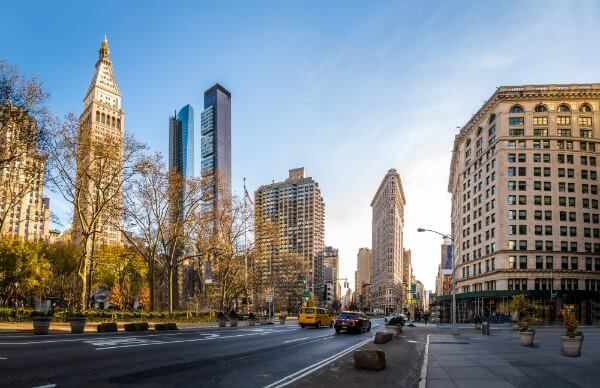 West Chelsea & Hudson Yards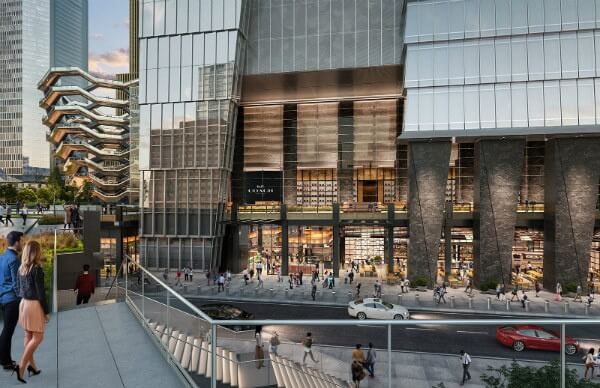 Tribeca (core)
A favorite among financiers, tech-savvy, & entrepreneurial types, where artists' lofts-turned-condos and celeb-approved buildings have boosted the once-industrial area's cachet.
Super lux buildings like 70 Vestry & 56 Leonard cemented the neighborhood reputation as a super-lux refuge.
The low-rise zoning requirements of the neighborhood acts as a cap on future inventory.
SoHo, NoHo & Nolita
The low level of existing condo inventory with declining pipelines creates a healthier supply-demand equilibrium.
The lowrise nature of these neighborhood acts as a cap on future inventory.
New projects like 565 Broome designed by Renzo Piano are a fresh addition to a neighborhood composed mainly of low rise buildings with few amenities or parking. While this project sits on the edge of SoHo, it offers something very unique to the area.
For NoHo (aka North of Houston) & Nolita (aka North of Little Italy), both celebrity magnet enclaves, projects like 40 Bleecker, 75 Kenmare & 152 Elisabeth Street are our favorite bets for super-luxe boutique buildings. They for sure will be the most popular among hip Downtown tenants.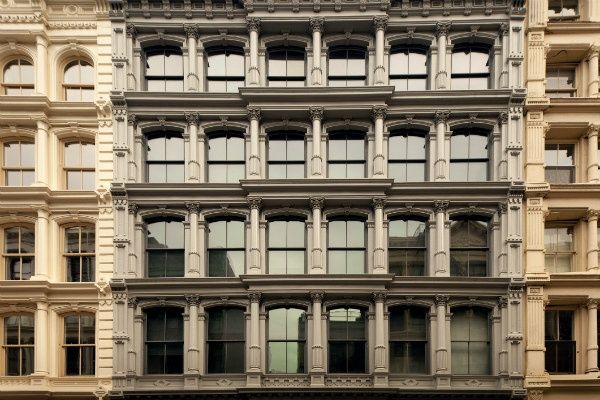 Prime Manhattan Condos for Sale
Now that you know what is going on in the new development condo market across Manhattan, we suggest you take a look at the following new developments for sale in prime NYC neighborhoods without oversupply. Also, don't forget to check our NYC Property Search page.
90 Morton Street
West Village
We love the location of this building in the heart of the West Village and love that it has good bones! Originally built in 1912, 90 Morton, which was the home of a Printing House for four generations, is being reinterpreted into luxury residences in the heart of the West Village. Because of its previous industrial use, it has high ceilings, large spaces, and a thick density between floors to minimize sound from neighboring floors, making it ideal for family living.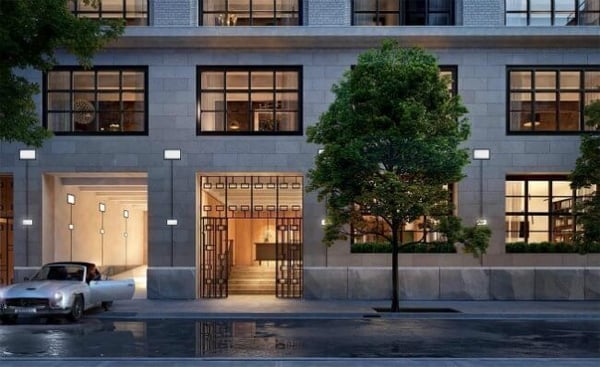 The building will feature 35 residences on 12 floors ranging from 2 to 5 bedrooms. Living spaces are grand and loft-like, with up to 12-foot ceiling heights, ceiling beams, 10-inch wide white oak flooring, Poliform kitchen cabinets, Dolomite white marble baths. Floors 8 to 12 feature private terraces and larger scale windows.
Amenities include a 24-hour doorman and concierge, adjacent automobile bay that provides privacy and security, private library, pool, fitness center, and a fully landscaped terrace on the roof with kitchen, bar, BBQ, fireplace and powder room, with 360-degree views of the Hudson River and Statue of Liberty.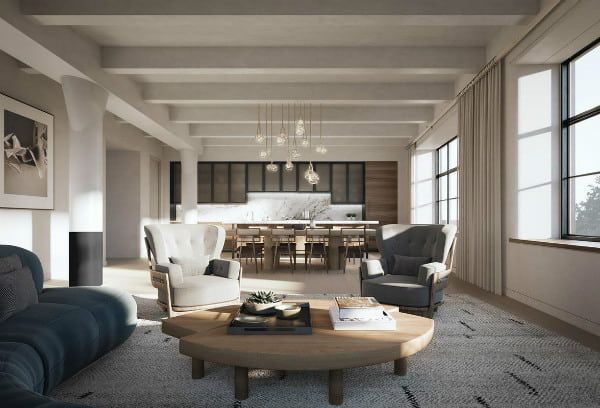 Images Courtesy: 90 Morton
200 East 21 Street
Gramercy
We love the price points at 200 East 21st Street, as well as the clam neighborhood. One of a more reasonably priced new development condo in Gramercy is 200 East 21st Street. Delivery is expected by the beginning of 2019. This private enclave of 67 residences in the coveted Gramercy neighborhood, which includes Gramercy Park. Architects at BKSK designed the historically contextual masonry and glass facade. Interiors are crafted by Champalimaud, while renowned landscape architect Halsted Welles Associates has designed integrated communal green spaces and landscaped private terraces.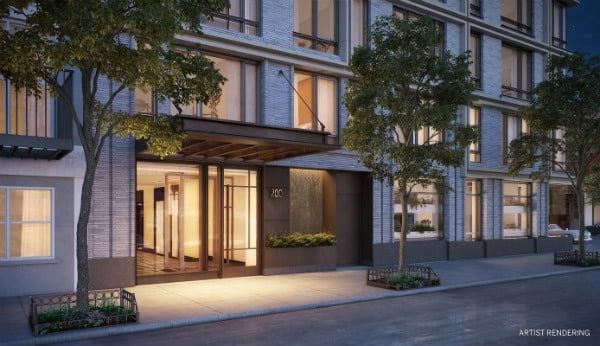 Residences feature 8' tall bronze windows, 7" wide plank oak flooring, Poliform kitchen, white sand Quartzite countertops and backsplash, Dornbracht fixtures and appliances by Miele. Master baths feature Turkish Lilac marble walls, complemented by white Sivec marble floors, a custom RiFRA vanity, and Dornbracht fittings and fixtures throughout.
Amenities at 200 East 21 Street include both indoor and outdoor spaces, including a sky-lit formal Wellness Suite reception area with attendant; sun-filled fitness center, residents' lounge with entertainment center and entertaining kitchen; and integrated planted rooftop lounge. All of this makes 200 East 21 Street an excellent choice when looking for apartments for sale in NYC.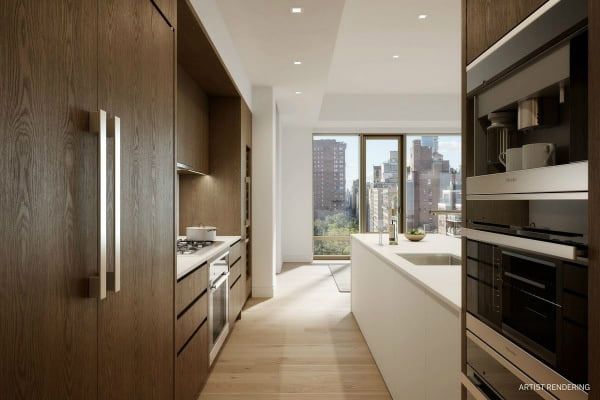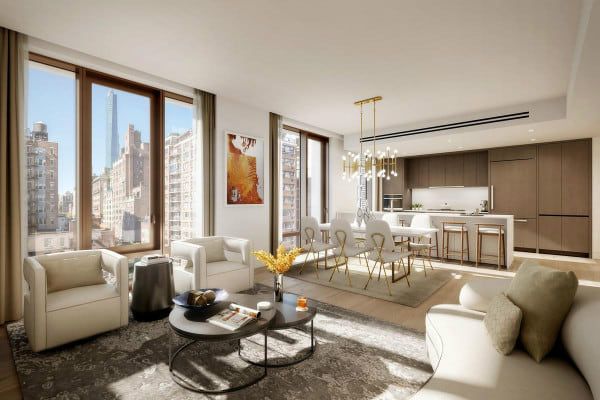 Images Courtesy: 200 East 21
250 West 81 Street
Upper West Side
We love this new elegant boutique luxury condo building at the northwest corner of Broadway and West 81 Street. Designed by Robert. A.M. Stern 250 West 81st Street will rise 18 stories and have only 31 homes. Alchemy Properties and the Carlyle Group are developing the property and Alchemy Properties and Stribling Marketing Associates are the exclusive sales agents for the project. The building has been selling out fast, so there are only a few units left.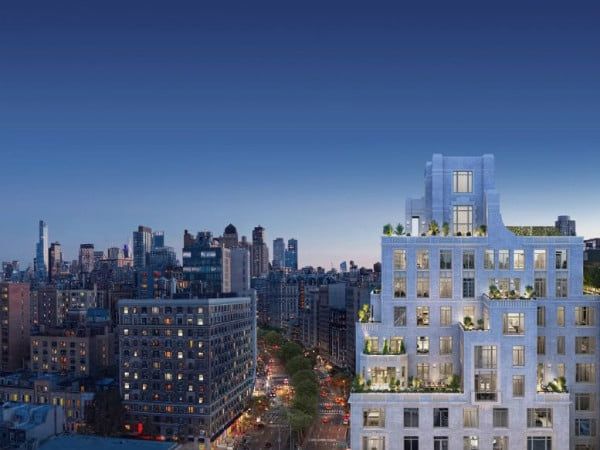 We love the work of the building's architect, Robert A.M. Stern, one the best architects in Manhattan. The building's facade is typical Stern, in classic Manhattan pre-war style, with setbacks, Indiana limestone & grey brick. Stern has designed some of the most important buildings in NYC, such as 15 Central Park West, Superior Ink, 20 East End Avenue, 520 Park and 220 Central Park South. While the prices at some of his other buildings are out of reach for most, pricing here is much more reasonable.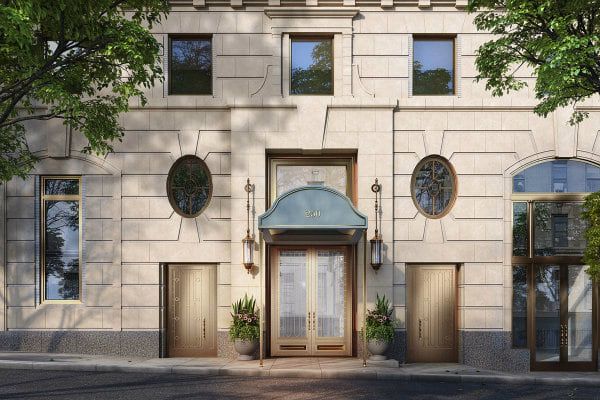 The timeless classic all-white interiors at 250 W 81 Street, which will feature high ceilings, large windows, herringbone patterned oak floors, Smallbone Devizes kitchens from England, and Gaggenau appliances. Baths will feature white marble flooring, marble walls, and custom marble vanity. Other bathroom features include rain showers, soaking tubs and radiant heat floors.
In the heart of the Upper West Side
We love the Upper West Side neighborhood, where we lived for 5+ years when first moving to NYC many moons ago. The UWS is a great place for families and everyday living. It's vibrant day and night and filled with a great cross-section of people. Zabars, Fairway, and Citarella, true staples of the UWS, are all 5 minutes away. In addition, the 1 & 9 trains are only 2 blocks away, as is Riverside Park. And, of course, there is easy access to the West Side Highway, Central Park, American Museum of Natural History and Lincoln Center.
The Upper West Side is definetely is one of the best options for inverstors looking for NYC condos for sale.
Occupancy is expected at the end of 2019.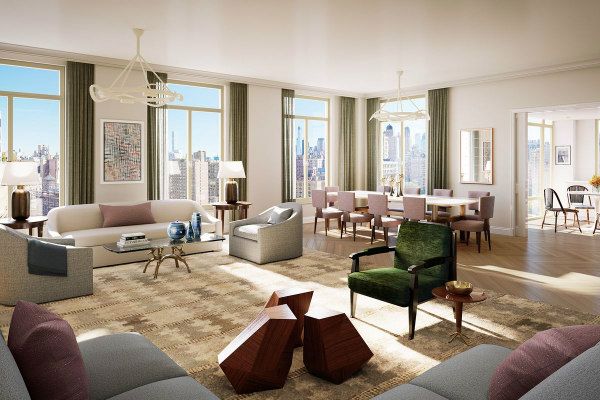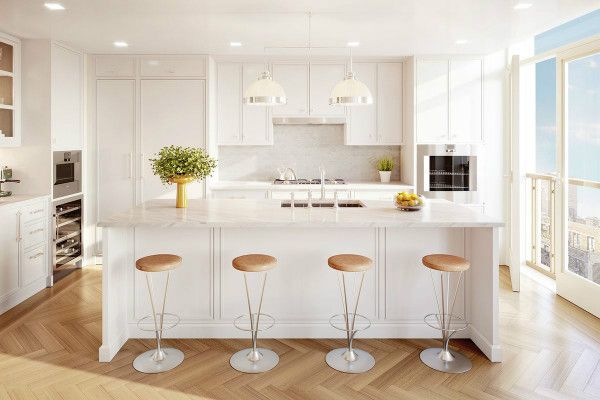 Images Courtesy: 250 West 81 Street
40 East End Avenue
Upper East Side
We love 40 East End Avenue, designed by architect Deborah Berke, the dean of the Yale Architecture School where she replaced outgoing dean Robert A.M. Stern, features 29 residences, from 2 to 5 bedrooms, over 18 stories. The building just launched and is at its very first offering price. 20 East End Avenue, a new condo development one block south, did very well in terms of price appreciation and prestige from offer to delivery. We expect similar results here…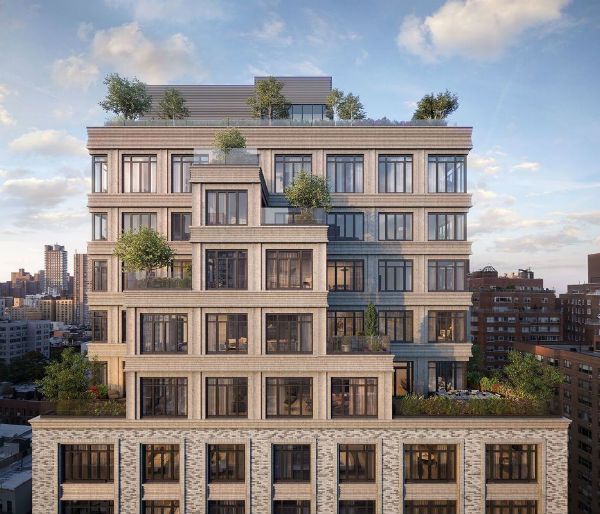 Residences at 40 EEA feature lots of windows, white oak hardwood floors, Gaggenau appliances, Italian Arabescato Caervaiole marble slab countertops, Waterworks fixtures and a collection of elegant Italian marble complete the bathrooms. The amenities at 40 EEA offer both convenience and glamour. The suite of amenities includes a library, game room, fitness center and gourmet catering kitchen. Outside, the porte-cochere ensures vehicular privacy at a discreet, covered secondary entrance.
Home to the best private schools in the country, like the Chapin School and Brearley School, East End Avenue is a tiny 11-block avenue that runs from East 79th to East 90th streets and from York Avenue and dead ends into Franklin D. Roosevelt Drive. Because of the FDR dead end, East End Avenue feels more like a cul de sac or gated community than a city street. With Uber and the new 2nd Avenue train, East End Avenue is as close to the city as ever...and we love the neighborhood.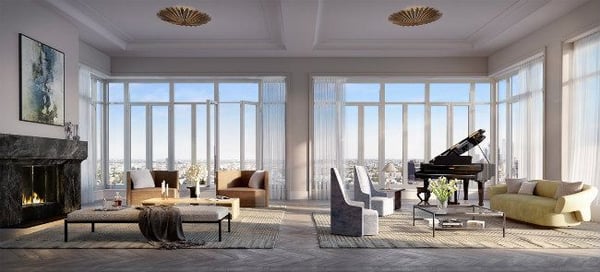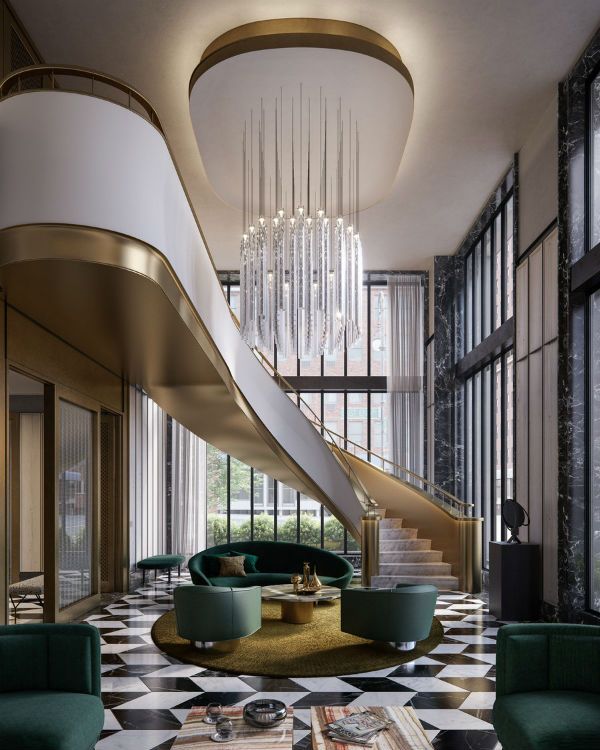 Images Courtesy: 40 East End Avenue
27 East 79 Street
Upper East Side
We love the French design of this new construction building at 27 East 79 Street, and the fact that it is only a half block from Central Park! By far, it is one of the most gorgeous new developments on the market...if you love French design - which we of course do!
On East 79th Street between Madison and Fifth Avenues, only steps from Central Park rises 27 East 79, the only condo to ever grace the block giving foreign buyers and investors an opportunity to in a storied neighborhood that has mostly coops and townhomes.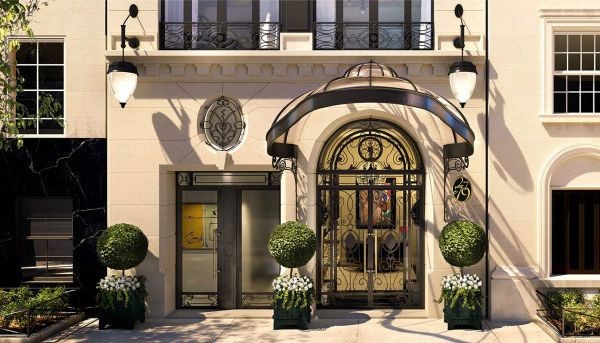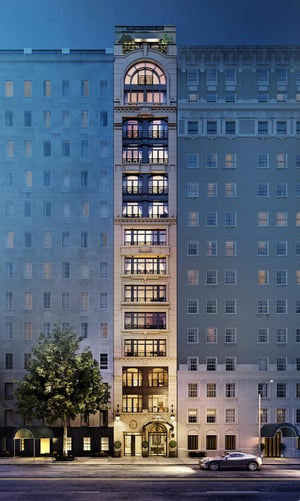 The building's facade is designed in Beaux Arts style with Art Nouveau touches, while taking cues from its prewar neighbors. The building is clad in limestone adorned by iron grillwork of the entry doors, Juliet balconies, and glass-domed marquee.
Residences feature white oak parquet de Versaille flooring, custom moldings, and large windows and direct elevator access. In addition, kitchens feature French La Cornue ranges, Miele appliances and custom millwork by architect Cabinet Alberto Pinto. Baths are clad in marble.
Steps from shopping on Madison Avenue, the Metropolitan Museum of Art, the Frick Collection, Gagosian Gallery, and Solomon R. Guggenheim museum, and all the best private schools in Manhattan (Collegiate School, Dalton School, Trinity School), the location cannot be beat.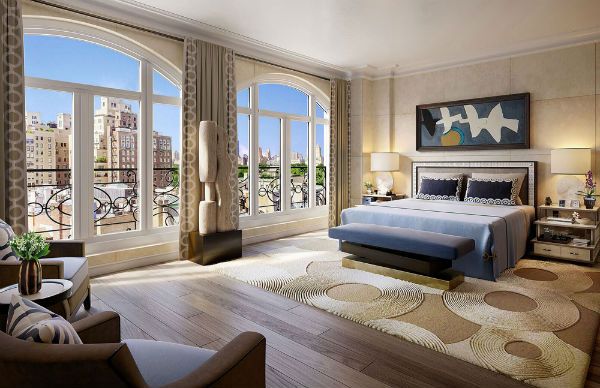 Images Courtesy: 27e79.com
To finalize...
Knowing the best neighborhoods to buy an apartment in Manhattan can be tricky, especially with a lot of new development coming on the market. We suggest you take the time to understand the different economics of neighborhoods, including what is coming in the pipeline.
If you are not working with a broker, start working with one now. Make sure they understand what is really going on in the market - many don't. It's even more important in a buyers market to have your own agent, as you may end up leaving money on the table, which is never a nice feeling. Your own broker will have no vested interest in urging you to select a specific development. And, remember, the developer's agent works solely for the developer! Not for you!
At Manhattan Miami Real Estate we specialize is helping International and domestic buyers locate and purchase exactly the homes they want, and do it at the right price. Whether you are looking for an investment property, primary home, an apartment for your child who is going off to Columbia or NYU, or looking for a company to manage your condo in NYC, we are here to help.
Below you can hear about our clients' stories and see where you fit in.
Buying Condos For Sale NYC
Guide Series:
Midtown Manhattan New Developments Condo Guide
East Village & Lower East Side New Developments Condo Guide
Financial District New Developments Condo Guide
West Village, Greenwich Village & NoHo New Developments Condo Guide